Dear DA,
You live in a big city like NY, you eventually see dopplegangers of everyone. A guy who looks exactly like that idiot from high school, except hairier balls, or a woman who looks just like Scarlett Johansson, except 300 pounds.
I watch a lot of porn. I'm the kind of guy, I watch porn while I'm eating breakfast.
So I'm watching this video yesterday and I see a guy who looks just like me. He made noises like me, screamed like me, made the same little stupid grunts and whimpers. It's like when you hear a recording of your voice for the first time. It doesn't sound like you to you, but you get the creepy feeling in your brain that it is you.
I got the same feeling watching this guy. I knew it was me, but how could it be? Making a porn video seems like something I'd remember doing, and I don't. So I'm watching and telling myself that it can't be me, but then he'd grunt or writhe and I'd think shit, that's me.
It was softcore porn. Mixed wrestling. So this guy is getting his ass kicked by a hot woman, which I'm into, but he never gets naked, so there's no way for me to tell for sure. If he'd had an enormous dick or both of his testicles, I'd know that it wasn't me (I have an average dick and I lost one of my testicles fishing). But the rest of him looks like me, and he's doing the kind of stuff I'd pay a woman to do to me, and I just can't tell. So I keep watching. I watch it over and over and over trying to figure it out, and without thinking, I start jerking off to it. Or to me.
Is this me? I looked for a timestamp, a calendar in the background, power outlets, any detail that might give away where and when this happened, but there's nothing.
Secondly, if it is me, where and when did I do this and why don't I remember it? And what are the implications of jerking off to myself? Does this make me gay? A narcissist? My own peeping tom?
And lastly, should I be embarrassed about this? Whether or not it's me, it looks like me, and most people would be embarrassed if they found out there was a sex tape of themselves floating around out there. Or a mixed wrestling tape. Nothing about this makes any sense to me and I don't know how to process it.
Any advice would be greatly appreciated.
Sincerely,
Michael J. Fox
PS: I appreciate you guys, I really do, but some diversity would be nice. Maybe a woman's perspective? And maybe I could pay her to smack me around a little? We're all woke here is all I'm saying.
---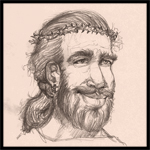 Dear Michael J. Fox,
You want a women's prospective, you got it. I'm too tired to answer your question anyway…
Introducing our guest columnist, Lilith. For those of you who don't know, Lilith was Adam's first girlfriend. She was made from mud and not one of his ribs, so she was an independent woman. Too independent for Adam's taste, so he demanded another wife.  To this day, I regret listening to that misogynistic asshole. Lilith would have never eaten that damn apple, in fact she probably would have killed and eaten the snake.
—Jesus H. Christ
---
MIKEY! It's so great to hear from you! Why have you been hiding from me? Is it that Parkinson's thing? I always knew Alex P. Keaton would have his day of reckoning. I hated that conservative freak. Just too bad you didn't make it with Meredith Baxter Birney before she came out of the closet. Or did you? I can never remember these things.
Anyhoo, I'm so hurt. Really. I sent my absolute best that day we made the porno. You even let me watch, despite your fears about size. For a short guy, you really don't have anything to worry about in that department. And the one testicle thing? Meh. But really, she was pretty good wasn't she? She sure enjoyed slapping your ass around.
Oh, silly me. Now I remember why you don't recall that day. The succubus I sent got hungry and drank too much of your blood. Nyx gets like that sometimes. By the time we got you breathing again, you wouldn't have remembered anything. Umm…actually, that may have triggered your Parkinson's now that I think about it. Sorry about that!
But yeah, if you're ever up for a rematch, I can get you another girl. Nyx is spending the next century with a naughty bad boy who joined us last year. I think his name is Prince or some symbol or something. He had special needs that Nyx jumped at the chance to fulfill. There's a Do Not Disturb sign on the door and I keep hearing him scream "Get Off!" and something about a red car. But they seem to be having fun.
What was I talking about again? Unlike those guys who truly are divine, I had to start this gig as a human. My brain gets fried sometimes, but as the woman here I gotta represent. Just give me a moment. SCREECH. (I really hate it when my inner harpie has to cough.)
So back to the porno. Yeah, Mikey, that was you. I even allowed you to kiss my cheek when it was over without eviscerating you. Really, you should be thanking me instead of complaining all the time about getting the shakes. As another strong female suggests through the power of song: Shake it off! (Goddess me, I love my jokes.)
Come to think of it, we haven't made a good porno in a while. I stopped participating when Spartacus threw me over for a guy. That wasn't an orgy to remember, let me tell you. But I enjoy watching women dominate men on the wrestling mat, and their whimpers and grunts almost make me wish I still enjoyed sex.
And speaking of which, you really do whack off a lot. I get that you're not normal anymore, but really, having one arm so much bigger than the other isn't a sign of Parkinson's, you realize that? No one believes that lie. And I think MBB may have rubbed off on you more than you realize if your own porn is all you can think about. Seriously, dude, stop watching yourself. Yes, you made a porn. Yes, that's you grunting. And yes, that white stuff on the mat came from your body. I've decided Nyx did you a favor drinking your blood and making you forget. No one still breathing needs to remember being in my realm. It just makes y'all crazy. Or get Parkinson's.
As for being embarrassed, you were in Teen Wolf. I think you should at least be grateful you have less hair in this film. And if you can't even recognize yourself, who else would recognize you? You aren't that popular an actor. (You're kind of a has-been, to be honest.)
Oh, I hear Nyx calling. Something about needing to create a city of erotica? Anyway, have fun wanking your willy to your own image. But you may want to wait to be alone next time. I heard your maid and butler are getting tired of you doing it while they serve your breakfast.
Cheers,
Lilith

Latest posts by Bridget McCrea
(see all)