Dear DA,
I'm basically a more masculine version of Where's Waldo come to life. But while I don't stand out in a crowd, I can be difficult to ignore. Especially for birds.
Wherever I go, the birds are terrified. They start flapping and clucking or chirping or whatever. Then they fly away.
Eventually, everyone flies away.
I've done a lot of impossible things in my life. My family is very Catholic, but I'm a Rhodes Scholar. And when I was in high school, I could slam dunk a tennis ball. But now, as a 45-year-old lesbian, I feel like my life is missing something. (And it isn't cock. Don't you dare say it's cock.)
I've got a great career, a great partner, and I'm pretty much right about almost everything.
So why do I feel so empty and tortured inside? Am I having a midlife crisis?
Hasta la vista, baby,
Rachel Maddow
---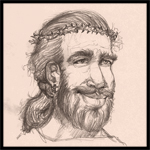 Dear Rachel Maddow,
In the old days, when a woman complained that she felt empty, I'd tell her she should get married and have a baby. These days, I could get tomatoes thrown at me for suggesting such a thing. In your case, though, it's actually true. Now, I know you're a lezzie, and have a girlfriend and have sworn off dicks, but in some ways, that actually makes you a perfect candidate for what I'm about to suggest. See, I'm about ready for my second coming, and I need a host womb through which to enter the world. The problem is, thanks to the sexual revolution, it's hard to find a decent virgin these days. I'm woke enough to understand that the lack of penetration from a dick does not a virgin make, but according to the official rules, it's close enough. So what do you say? Do you want to be my new Mary? The job doesn't pay very well, but at least this time you won't have to watch me get murdered by Romans. You will have to witness the Armageddon and a final showdown with Satan, but the actual war will mostly just be for show. Think of it like the ultimate Civil War reenactment. Sure lots of infidels will be burned alive, including some people you probably think don't deserve it, such as Hillary Clinton. But you yourself will be spared and once shit starts going down, you will not look back at those left behind. Trust me. Anyway, give it some thought and get back to me.
—Jesus Christ (maybe) Your Son
---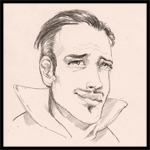 Dear Rachel Maddow,
This is not easy to admit, but here goes…I am totally head over heels in love with you. Believe me, I'm just as surprised as you are. Me, Satan, the ultimate lover, the demon who's had every woman I've ever wanted. For some reason, I cannot get you out of my head. The other night I had a dream that we were picking blueberries together in the hot June sun and you started sweating through your tank top. You were not wearing a bra and I could see your areolas. I got a boner that tore right through my jean shorts. I was embarrassed but you told me it was OK. Then you, Rachel Maddow, took my twelve-inch barbed cock in your mouth and sucked. The next thing I know, we were rolling around in the blueberries until we both look like giant Smurfs. When I woke up, my acidic nocturnal emissions had burned a whole right through my bed, through the floor and onto Hitler's bare ass (his cell is directly under my room.) I so badly want this dream to come true. And if you accept Jesus's offer to become his new Mary, it'll make my balls ache that much more. Seeing as how Jesus is my best frenemy, it would be a real "Stifler's Mom" situation—so hot, so forbidden. But alas, you have sworn off dicks, so our love can never be.
—Satan the Lovesick
Have an uncomfortable question? Need some advice about your deviant behavior? If so, then it's time to pray. Email your question to ryan@skullislandtimes.com, and it shall be answered in a Divine Advice column by Jesus and Satan.